When to Align Sales Territories
Some companies take a proactive approach to sales territory management by reviewing their sales territories every year. The year's performance may lead to small changes in sales territories, requiring sales territory realignment and new sales territory maps.
A number of situations have the potential for causing decreased sales productivity, missed customer opportunity, and confusion and competition among sales people.
Sales territory alignment can help in each of these cases:
If your sales territories are based on historical data rather than potential for sales
If you have a new or changed sales team due to acquisition, merger, partnering or restructuring
If your company is launching a major strategic initiative or new product and sales force is not matched to it
If your sales team has experienced significant changes over a short period of time
If any of these situations apply to your company, then sales territory alignment using visual, geographic tools or expert analysts can help you quickly align and optimize sales territories. Use the table below as a guide to know the level of sales territory management required.
| | | |
| --- | --- | --- |
| Factor | You need to optimize territories | You need to re-align and manage territories |
| Scope of the sales changes | Large | Small to medium |
| Nature of the sales changes | Strategic or environmental | Normal course of business |
| Customer relationships | Accounts can be evenly distributed among sales team | Sales reps must maintain relationships with specific accounts |
| Examples of need to update | Strategy or business conditions- acquisition, channel change, high sales turnover, major reorganization, new products | New or lost customers, personnel changes, small organization changes |
Software or Analytical Services?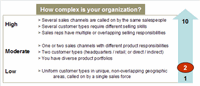 This executive sales brief offers a step-by-step decision process to help you choose between licensing software or contracting for analytical services to optimize sales territories.
Download executive brief
---
Sales Territory Map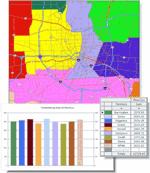 Discover the benefits of balanced sales territories.
View map