Sales Territory Alignment Benefits
With measurable benefits that accrue almost immediately, now is the time to get started on sales territory mapping and sales territory realignment.
Increase sales potential — improved customer coverage allows your sales force to spend more time in front of customers and prospects and less time traveling
Decrease cost of sales — Optimally aligned territories result in shorter drive times and associated travel expenses for sales people, making each sale more profitable
Gain competitive advantage — With optimally aligned territories, you can move faster when new opportunity comes in, beating your competition to the next sale
Improve sales force satisfaction — Balanced workloads and earning potential will improve morale and career satisfaction among your sales force, leading to higher motivation and lower turnover
Customer Quote
"ProAlign's dedication, expertise, and support helped us complete a major sales force realignment on a very tight schedule. We would not have achieved the same results without them on our team."
Tom Blue, National Sales Manager Milwaukee Electric Tool Corp
Sales Territory Map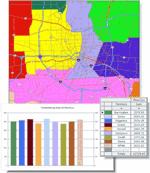 Discover the benefits of balanced sales territories.
View map